Everything necessary was done to ensure a successful and dynamic season. The city is ready to welcome tourists, the beaches are clean to meet the early arrivals of tourists, most of the restaurants, bars, hotels and complexes have opened. That was said by the Mayor of Sveti Vlas Ivan Nikolov, quoted by BTA.

Beginning of the season coincided with the Easter holidays, for which hotels have special offers and hot deals. According to the forecasts of the tourism industry projected growth of foreign tourists will be 20-25 per cent, it is believed to exceed the levels of 2014, which was relatively better for tourism than in 2015. It is expected a strong presence at this year's Russian-speaking tourists, the Germans, the English, tourists from Israel, Poland. Increased demand is planned in July and August, and is recommended Bulgarian guests who wish to relax in Sveti Vlas to make a reservation now, without waiting for the last moment, said the mayor's office.
Sveti Vlas is 4 km away from Sunny Beach and 2 km from the resort Elenite. You can hire a car in Burgas airport Sarafovo and conveniently by car reach to Sveti Vlas. Bravo offers car hire service in St. Vlas, Elenite and in Burgas. For many years car rental company Burags Bravo has regular customers who hired a car for the entire stay in Saint Vlas Bulgaria. Sveti Vlas is a favorite vacation spot in summer. It is a small village but the combination of fresh air and sea attracts tourists from from all over the world.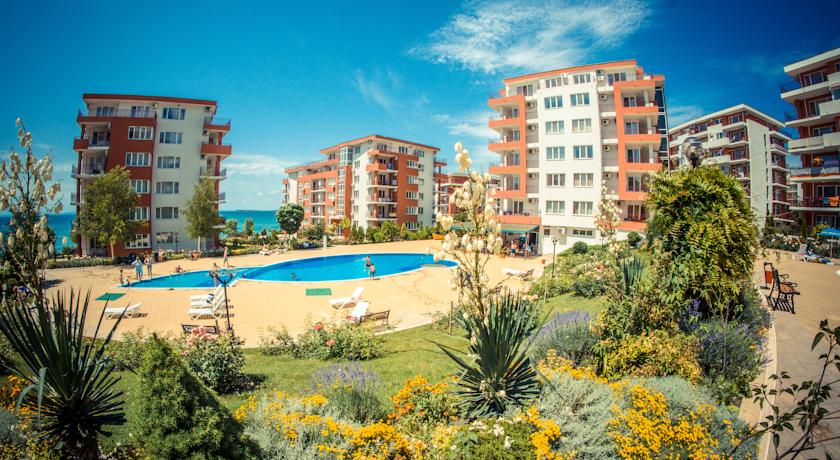 Bravo rent a car St Vlas is available every day оof the week. In Sveti Vlas you can rent the car at the most convenient time and place. Rent a car St Vlas offers free delivery of the car to your hotel , apartment or house. With a car rental in St Vlas you can get to Sunny beach, Elenite , Obzor, Nessebar, Ravda, Burgas, Burgas airport, Sozopol, Pomorie and all others cities and villages .
Aparthotels, the five-star hotels in Saint Vlas offer All Inclusive vacation right by the sea. Saint Vlas occupies the northern part of the bay, near which is located Sunny Beach and holiday village Elenite. Saint Vlas has been declared a climatic seaside resort. The microclimate here is favorable for the treatment of lung diseases. Later, the village of Sveti Vlas acquired the status of a town by a decision of the Council of Ministers. In 2007 in Sveti Vlas was opened the largest marina in Bulgaria with a capacity of 300 yachts. The beach of Sveti Vlas faces south. The sand is fine and golden. A unique combination of clean mountain air, sea climate and beautiful nature. Saint Vlas is a favorite vacation spot for many Bulgarians and foreigners. Summer days are characterized by a quiet morning and a relatively cool afternoon. Uniquely long, warm and quiet autumn. In recent years, temperatures of 15 degrees have been observed in mid-December. Winter here is no more than a month.
Sveti Vlas and Elenite are also suitable for a family vacation with children. One of the most popular complexes for sea holidays are Fort Noks Marina beach and Fort Noks Panorama in Elenite. In St. Vlas Kambani, Dolche Vita. In summer there are tourists not only from Russia, Ireland and the Czech Republic, Poland, Denmark. The beaches are close to the holiday complexes, they are safe and peaceful for children . Nearby are the beaches of Sunny Beach, Ravda, Pomorie and Sozopol is on 81 km away.
The resort Sveti Vlas is located northeast of Sunny Beach. It is a quiet resort for a pleasant and relaxing vacation. The most visited and recommended complexes for holiday in Bulgaria in Sveti Vlas and Elenite are Dolce Vita, Dolphin, Etara, Kambani apartments, Crown Fort Club just 1.4 miles from Dinevi Marina, Fort Noks Grand Resort , Panorama Fort Beach, Crown Fort Club Private apartment, Marina View Fort Beach and Imperial Fort Club. They have their own beaches and swimming pools with artificial waves. Marina View Fort Beach and Panorama Fort Beach are first line ant the beaches are with free parasols. Dolce Vita in Sveti Vlas , Etara, Dolphin and Kambani apartments are located only 200 m from the beach in St.Vlas and only 4 min walk from the center. This large complex offers a restaurant, swimming pools for adults and for children and free children's play areas.
Marina View Fort Beach Sveti Vlas Bulgaria has access to the excellent beach offering a range of water sports, beach bars and restaurants. The complex is part of the Grand Resort Complex so there will be opportunity to use all the facilities in the complex. With a rental car in Sveti Vlas you will make the most of your holiday in Bulgaria. Bravo car hire Sveti Vlas comprises family rental cars for your summer vacation . You can take the rental car at Burgas airport and comfortably reach your starting point in Sveti Vlas . All documentation you need to hire a vehicle- a passport and a driving license.
The popularity of Sveti Vlas has grown a lot over the last 5 years. In Sveti Vlas, Elenite and Sunny Beach you can afford inexpensive holiday. Prices on vacation in Bulgaria are very accessible. There is an increase in purchases of real estate by Russian and British tourists. Foreigners tend to buy real estates for personal use. At this point in the city there are almost 200 permanent residents of Russia, Russian citizens, who fit well into the society, and are very active in respect of events in the city, Nikolov said.
He informed that on May 2 Sveti Vlas celebrates its day. Nikolov said that this year in Sveti Vlas will be a series of summer events. Currently a new medical center is finishes, which is located above the amphitheater Arena.