Car rental Sarafovo
Sarafovo (Сарафово)
is a neighbourhood of Burgas, largest city in South Eastern Bulgaria - a regional, tourist and trade center. Sarafovo was originally founded as a settlement (1912–1922) by Thracian refugees It is situated on a hill on the Black Sea coast, where there is a fine view of the whole of Burgas bay, Pomorie, Sozopol, Burgas and the mountain heights of the Strandzha Mountain. Sarafovo also has a wide, sandy beach.
Sarafovo is a prestigious district and the area develops quickly that contributed to the proximity of the international airport of Bourgas. Car rental Sarafovo is easy enough, book a rental car, take key and documents, get in the car. Payment in any convenient way. Car rental Sarafovo Burgas allows you to see all interesting places. Book a car better in advance, so as not to worry about having the right model.
If your flight arrives early in the morning at Sarafovo Burgas airport BOJ or late at night, you can stay in Sarafovo at the hotels. Hotels in Sarafovo are at low rates and almost all prices includes breakfast in the price per night. Sarafovo also offers private apartments for rent from their owners. The rental car can be taken directly at Bourgas Sarafovo Airport and you can go with it to the hotel you have booked. At Bourgas airport we offer 24-hour car rental service daily. We do not have extra charges for out of office hours.
We offer our customers a free delivery of the car to the hotel in Sarafovo or to an address in Sarafovo. It is important for us the convenience of the client. Rent a car in the most convenient way for you in Sarafovo. The convenience of having your own car available at any time can not be compared to public transport or taxi. You decide when you will travel, how many hours you will go and where you will go. You do not consider anyone.
Car rental Sarafovo at competitive prices, giving you a chance to tour Burgas all. You plan your day, decide where you go to the beach or the shops, the mall in Burgas, the aquapark or the landmark. Believe there is what to do. Have an unforgettable holiday in Sarafovo Bourgas. Bravo car rental Sarafovo will help you to find just what you want, for the best price.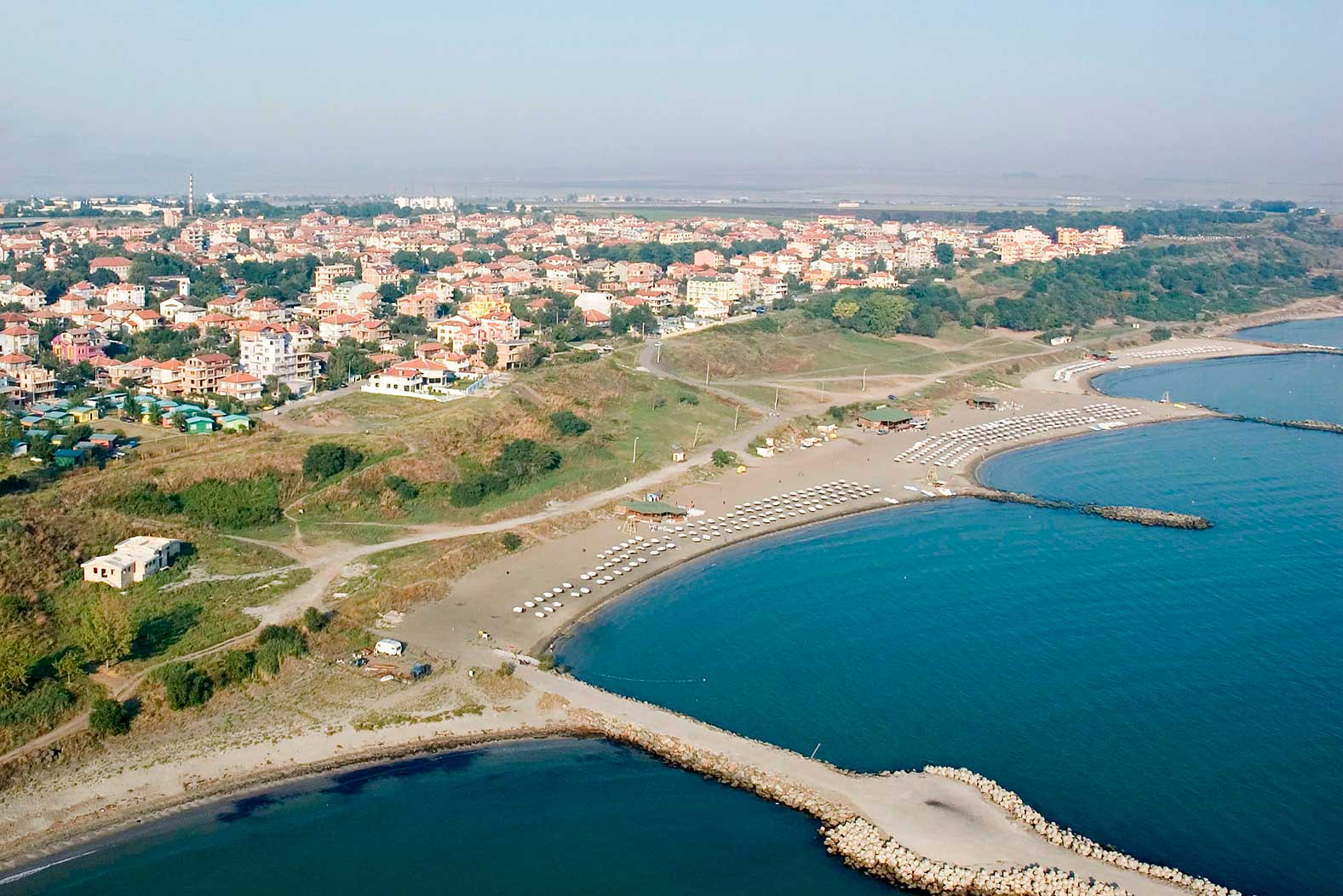 Sarafovo is one of the old quarters in Burgas province
, but in the last years there are many changes in the neighborhood. The neighborhood is growing to south and north after complex Atlantis resort and spa to Pomorie. The South extends to the area Kyusheto. Atlantis resort and spa , apartments Diamond beach complex and Burgas beach resort are newly built complexes in Sarafovo Bourgas . Burgas beach resort has outdoor pools and a private beach superb for a beach holiday in Bulgaria.The demand is great in summer. Not only Sarafovo is growing, but also the neighborhoods in the south are a desirable place for building and living. The village Marinka is located to the south of the village of Kraymorie. Marinka is a small village between Burgas and Sozopol with splendid nature and just 5 km from the beach strip of Kraymorie. It has an extremely good location. You are looking to go on holiday to Bourgas Bulgaria, choose a vehicle from Bravo car rental Burgas and enjoy your stay in Black Sea Coast in Bulgaria. Car rental Sarafovo Bourgas airport offers a great range on cheap car hire. With Bravo car rental in Sarafovo you can rent a car you like in our cheap and easy way. Here you will find cars for rent for any purpose and budget.
Sarafovo has good lodging options for its visitors. The village's convenient transportation options, closeness to the Sunny Beach resort complex, Nessebar, and Sozopol, as well as its beautiful natural characteristics, draw weekend visitors and tourists with a variety of interests in search of an enjoyable and adventurous summer holiday.
The complete renovation of the main street that leads to the beach in the "Sarafovo" district was completed in 2023. For the new summer 2023 tourist season, the renovated main street to the beach is very beautiful and creates a very pleasant impression.
Beach next to the Bunker and spa with lye and healing mud
The beach next to the Bunkera started to gain popularity recently after a jogging and cycling lane was built from Solnitsi to Sarafovo quarter. Bunkera Beach or Solnitsi North Beach is located 5 km by car from Burgas, if you go in the direction of Varna and take the first turn to the right and then right again. You can also get there on foot through the sea garden or by train that departs from Mosta or Sea Station. The beach has a long strip and you can find a place all to yourself. It is also unguardable, so be extremely careful.
Combine the beach with a visit to the salt pans and their lye and healing mud. It's a lot of fun to swim in the red, pink salt flats and get covered in mud up to your ears. And besides, it also helps with beautiful skin and the treatment of various diseases. Try it and enjoy a great day in the immediate vicinity of Burgas.
Near Sarafovo are the popular Black Sea resorts such as Pomorie, which is 7 km away, Nessebar and Sunny Beach, which is 25 km away. There are excellent road connections to these resort complexes along the native Black Sea coast. The tourist flow in Sarafovo is largely due to the great proximity of the resort to Burgas Airport, which is located less than a kilometer from the neighborhood.
Sarafovo does not stop developing in terms of infrastructure. New establishments, residential homes and public spaces such as parks, gardens, sports and recreation areas are constantly being built. A sports rehabilitation and spa center will be built, where kalo- and lugo-treatment, hydrotherapy, various therapies and other procedures will be practiced. . New discos, restaurants and cafes will appear in the steep coastal area. The beach strip in Sarafovo is 4 kilometers long. The sand is fine and its content is very similar to that of the beach in Pomorie. In places it is almost black with a rich composition of iron, manganese and magnesium. It absorbs the sun's rays, heats up quickly and has healing properties.
Due to its location on the Burgas Bay, the water is pleasant for swimming until October, and the seabed is flat and comfortable for beginner swimmers and children.
The winds create conditions suitable for practicing windsurfing and kitesurfing as well as hang gliding. Sarafovo is considered one of the best places for kite surfing on our southern Black Sea coast. The long Sarafovo beach and its neighboring beaches such as the one by the Atanasovo Lake, as well as the warm weather and winds, are favorable conditions for more and more sports lovers to visit the bay of Sarafovo.
Sarafovo beach
Sarafovo Beach is located in the district of the same name in Burgas, 14 km. north of the large seaside town and 12 km. southwest of Pomorie. The beach, which is of the urban variety, is well known among the locals as an excellent spot for relaxing and beachcombing.
Even during the busiest summer months, it maintains a reasonable level of tranquility while providing a variety of services like restaurants, bars, umbrellas, and loungers. Anyone Imagine four kilometers of beach covered with fine sand, a sea breeze and a beautiful sea beckoning you to swim in it. In some places, the sand has a black color, which is due to the high content of iron and manganese. You can have peace of mind about your children's safety and your own as your safety is being looked after by highly trained lifeguards.
The water in the area is shallow, clean and has no sudden changes in depth, making it suitable for children and adults who cannot swim. Water bikes, a water attraction - banana, jets and a scooter are available for beachgoers' entertainment. In the immediate vicinity of the beach there are cafes, restaurants and bars for every taste and preference. The Sarafovo district offers accommodation in family hotels, private villas or rooms for rent at favorable prices.
Hotels in Sarafovo Burgas
The number of hotels and places of amusement increases every season. Currently the area is particularly popular with Irish and Norwegian tourists. Tourism is the main economic activity in Sarafovo, but unlike some larger resorts, Sarafovo does not close down at the end of the main holiday season. Tourism peaks in July and August, when the population increases to 10,000–12,000 people. There is a wide range of accommodation to choose from, ranging from 5-star luxury hotels, to cosy and friendly family-run bed and breakfast guest houses and homes in Sarafovo. Sarafovo became one of the most attractive and quickly developing settlements on the Bulgarian Black Sea cost. It is a wonderful place to spend your holiday in Bulgaria and have a great time. Compare our offers to find great deals on cheap car rental Sarafovo Burgas. Hiring a car abroad is a common task for holidaymakers . It gives you the freedom to really explore Bulgaria Burgas in your own time. You can find everything you need to know about car hire in Bulgaria on rentacarburgas.com If you are looking to spend your holiday relaxing in your rental car and visit the Black Sea Beach, you can do it with your car rental Sarafovo airport from Bravo rent a car Burgas. To make the most of your stay in Bulgaria, we offer the full service when searching for a cheap hire car in Burgas Sarafovo. A rental car is essential for your family's vacation in Bulgaria . Car hire in Burgas is a great way of exploring the country and discovering areas that aren't easily accessible by public transport. Plan your holiday and trip in advance and the areas you want to visit, enjoy the sites and hop from one lovely beach to the next. If you are going to Bourgas and have not booked a car, you can do so by completing the reservation form on the website. Burgas region has a variety of places to see and things to do in it.
Many visitors prefer to fly into Burgas airport and out of it too. When renting a car, you should decide what kind of car to rent and where to pick it up and drop it off. All Bravo vehicles can be hired at the airport of Bourgas. Picking up a car at Burgas airport does not cost more than picking it up in the city.You can hire the car you need immediately after your flight. Airport pickup and return worths . A further strong impetus to visitor numbers is
Burgas international airport
, which is very close to
Sarafovo
. In 2008 the airport processed more than 1.5m passengers. Sarafovo is convenient to Burgas city centre, the seaside town of Pomorie,Nessebar and the beach resort of Sunny Beach (25 km.) Sarafovo also has an increasing number of foreign residents, who have chosen Bulgaria for their home. There is a modern yacht port, which will increase the quality of the tourist services. Overall, Sarafovo's ambition is to become "The European face of Burgas".
The port of Burgas in Sarafovo
The first modern fishing port in Bulgaria is in Sarafovo. This is the first approval of an agreement for Bulgaria's Operational Programme of the European Union and the Municipality of Burgas co-financed the construction. The construction of a port for fishing in the region of Bourgas, Sarafovo is completed. In a ceremony on June 18 2015, Prime Minister Boyko Borisov and the Mayor of Burgas Dimitar Nikolov opened the new port in Bulgaria - fishing port in Burgas Sarafovo. The port is a great new place to relax and walk. The port in Sarafovo became a favorite place for romantic walks by the Black sea. It has a capacity of over 100 vessels to ten meters, 20 places for boats from 10 to 15 m. and ten places for Ships up to 20 meters. A specially designated place - covered market, citizens and visitors can directly buy freshly caught fish from local fishermen. For repair work has been built covered workshop situated next to the slip. The entire port area is lit with energy efficient lighting and ice monitored by system with 29 cameras and recorders. A parking lot with 100 places will serve the visitors. The fishing port looks like a mini Riviera. Seen from the sea, the port looks like an amphitheater, and it reveals a unique view of the Burgas Bay.