Bravo provides car rental Burgas at the following locations in the city -Burgas airport (BOJ), city centre, railway station, bus station, as well as hotel and address deliveries in Burgas.
Travelling by car around Bulgaria is convinient and affordable - whether it is for business or holiday travel. All cheap car rental Bulgaria comes with a wide range of cheap, wagon, comfort, 7 seater cars, vans and automatic gearbox cars. Bravo Rent rent a car Burgas offers you various possibilities to book your vehicle.If you plan to go on vacation or business trip in Bulgaria Burgas, we suggest you to use our online booking car rental service. It is very simple to search and compare car rental prices in Burgas. Enter the desired date, the city and the place hiring the vehicle and if necessary - additional services. The price on the page of search results already includes all taxes and fees. We offer exclusive prices for short-term and long term car rental. Top prices on your wanted terms every time. Our rates are the cheapest in Bulgaria. Our cheap car rental prices are always available online and booking is easy and simple. You can book your car rental at our website .
Burgas has become the center of tourism on the southern Black Sea coast in the summer. Around Burgas there are many interesting places to visit. Every year, the resorts and villages near Bourgas are growing and the number of accommodation places is increasing. Increasingly popular are the apart hotels in Bulgaria. The owners of apartments in the sea resorts rent them mainly to their countrymen in the summer.

You can rent the car at the major airport Burgas BOJ. Bravo rent a car Burgas local company tends to be less expensive, the rental cars are at cheap comprehensive prices. More visitors rent cars in Bulgaria Burgas to reach their destinations for holiday. Car rental in Burgas with Bravo is one of the most economic in Bulgaria. We advise the costumers to reserve a rental car online before arriving to Bulgaria Burgas, especially in the high season in summer from June till October.

With Bravo book your rental car Burgas before you arrive in Bulgaria and do not pay until you pick up your car. There are no fees in advance and all you have to do is to take your rental car.
Car rental gives you a chance to travel comfortably and gives you the freedom to choose when to travel and where to go. The most preferred location for car rental is Bourgas Airport. Renting at the airport gives travelers the chance not to waste time looking for how to organize their vacation in advance. In addition, it is convenient to pick up the car from the airport immediately without worrying about taxi taxis or other modes of transport. Additionally, you do not waste time waiting. Book a car online, it is cheaper especially if you travel in the busy season.


There are many places to visit and visit around Burgas, but the distances are too big, sometimes, that is a reasonable way to hire a car in Burgas. With the car you will be able to visit more places you need. Bravo car rental Burgas is the place where you can rent a car both for short and long term.
Railway lines link Burgas to Sofia capital of Bulgaria, there is a railway line Bourgas Plovdiv too. If you travel by train to Bourgas, you can take hire the car at Bourgas railway station conveniently and easily. The car rental Burgas railway station location works 7 days a week to meet our clients' requirements. The railway station is in close proximity to the center of Bourgas. The bus station and the train station are located next to each other in the center of Bourgas. Whether you are coming by train or bus, it is possible to hire a car at the train station and the bus station in Burgas. In case you rent a car for a long period, we will offer you a good discount. To hire a car in Burgas is made comfortable to our clients with the possibility to get a rented car from any place, which meets their requests, from airport, hotel , central bus station Burgas and railway station.

Car rental Burgas - booking for a few minutes. No matter which part of Bulgaria you are on holiday- car rental in Burgas with Bravo in every resort on the Black sea coast. Book car rental in Burgas through our website is quick and easy. Please include the desired extras, such as children's seats, baby chairs so when you are in Bulgaria, they are available and you can start your journey immediately. Car hire Burgas is a great way to discover everything Bulgaria can offer. Your rental car can take you to the most deserving places in this country in the eastern part of the Balkan Peninsula in southeastern Europe .
Burgas
Burgas or Bourgas is an important industrial, transport, cultural and tourist centre.
The city is surrounded by the Burgas Lakes and located at the westernmost point of the Black sea coast. Burgas airport is the second-most important in the country. Bourgas is the centre of the Bulgarian fishing and fish processing industry. Burgas is located 389 kilometres (242 mi) from Sofia, 272 km (169 mi) from Plovdiv and 120 km (78 mi to the north) from Varna. To the west, south and north, the city is surrounded by three lakes, which are home to several hundred bird species .
The holiday in Bulgaria Burgas becomes more and more popular with each year. The calm city attracts with its beauty and clean air offers visitors a wide choice of entertainment. A great option for a beach holiday in Bulgaria - the beach in Pomorie, Nesebar, Aheloy, Ravda, Sozopol, Primorsko and Sunny Beach on the Black Sea.There are a lot of hotels, restaurants and cafes, children's playgrounds on the beach. Many tourists are attracted by mild and pleasant climate of the country. Bulgarian car rental company Bravo offers car rental services in Bourgas and minivan hire in Bulgaria, Bourgas airport, Burgas region, as well as in Varna. The popularity of car hire and van rental grows because of travelling in comfort and it is also comparatively reasonable. Traveling with your family or friends is interesting and rather easier. Independent travel provides freedom of choice and movement. You have full control over your trip. A trip on your own - it's cheap, the price of your journey depends on you and your preferences. You can pick up the car at the airport of Burgas at cheap price and drop off the rental car the same place or at a different one. Book your car in advance is cheaper and faster. Order a car on the Internet - it's easier and more convenient, you do not go anywhere. If you do not need the vehicle all the days of the trip, you can order the service delivery of the car at the hotel or any other convenient location. Thanks to our work, the number of customers grows. All over the world people use search engines for booking cars for hire . Online booking of travel services has been growing rapidly in recent years. On our website you book quickly and easily car rental in Burgas Bulgaria.
The earlier made an order, the more chances to get a car for a lower price. You can always rent a car at a convenient time for you - car rental Burgas at affordable price.
With its wonderful climate, beaches, wealth of history and friendly, hospitable people, Burgas is becoming increasily popular among tourists. Summer is long and warm here and the heat is not overbearing thanks to sea breeze. Rent a car cheap in Burgas and you can fully enjoy your holiday in the company of friends and loved ones breathtaking mountain scenery and surroundings Burgas Bulgaria. The area around Bourgas offers a plenty of things to do. It is a fast growing city and with each passing year Bourgas becomes more attractive for tourists. Burgas is a popular tourist destination and its visitors choose to hire a car so they can explore its region.Burgas is a big tourist center, and a starting point for visiting the seaside resorts, such as Sunny Beach, Ravda, Elenite Holiday Village, Nessebar and Sozopol, Ropotamo Reserve, Strandja Nature Park. Whether you are on holiday or travelling on business, Bravo car rental Burgas will have a hire car to suit your needs and budget. Bravo car rental Burgas serves popular vacation and top holiday destinations in Bulgaria. Hiring a car is the cheapest and most convenient way to get around and see the attractions in the area.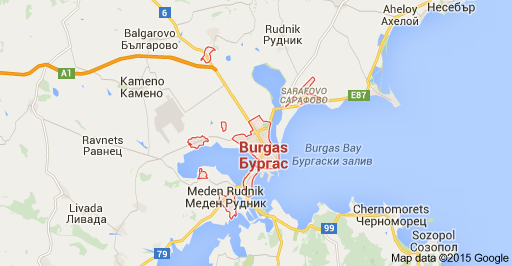 Burgas, itself is a beautiful sea town. It is worth seeing the Sea Garden called also "Morska Gradina "- Sea Park. The Sea Garden is the biggest park in Burgas and is situated along the seaside line. The Sea Park spreads from the Port of Burgas along The Sandy Beach of Burgas to the salt pans at Atanasovsko lake . It is There are a lot of monuments, statues, flowers, cafes and children's playgrounds in it.
Useful information, driving in Burgas, tips

Parking in Burgas

During your holiday in Burgas you can hire a car. Rent a car in Bourgas Bulgaria makes you independent, and you are able to manage your time as you like.
Most major shopping malls have parking which is free for buyers: Mall Galleria Burgas, Mall Burgas Plaza, Metro, Technomarket Burgas, Tehnopolos, Kaufland, Aiko.
Parking in the center of Burgas
Parking zones in Burgas
Car parks on the street in downtown Burgas are divided into parking zones is payed by hour.
Yellow Line - a complete ban. Blue line, blue zone - enabled, which means that in this place you can park the car, subject to payment of a special terminal.
How to pay for parking:
Payment of parking in the zone is very simple. The system is fully automated and organized in a way that a driver can make a payment in a very short period. Payment can be made through 3 different methods – 'parkomats', SMS messages and electronic tickets from parking attendants.
Parking tickets
Paying with a parking ticket is very simple. The tickets for all the zones can be bought fromthe parking attendants.
Parkomat in the blue zone - vending machines parking tickets , receive coins and electronic parking card. In the zone you can pay on the spot with the help of the machines set up near a car park. The parkomats receive coins. The price of parking depends on the place where you leave your vehicle, an average of 1 lev per hour. Put the ticket under the windshield.
Mobile phone- SMS messages paying
A driver can pay for the parking using a mobile phone by sending SMS messages. In the text of your message type in your car plate number, without spacing and send an SMS with the number of the zone you are in. A few moments afterwards, you will receive an SMS which confirms you have made the payment. You'll get the notice of parking time expiry as well. You can extend your time using the mobile phone.
Parking in blue zone in Burgas is payable in blue zones from 09.00h. to 19.00 h. in working days. Parking is free in the period from 19:00 to 09:00 and on weekends.
List of car parks in the center of Burgas: - "Hristo Botev" Str. "San Stefano" from the street. "Hristo Botev" Blvd. before. "Demokratsia"; bul. "Demokratsia" from "San Stefano" and street. "Tsar Simeon I"; str. "Tsar Simeon I" from "Demokratsia" to blvd. "Knyaz Aleksandar Batenberg"; to blvd. "Knyaz Aleksandar Batenberg"; str. "Ivan Vazov"; pl. "Tsaritsa Yoana"; parking for Iztochna entrance to DGP "Gara"; parking at the entrance to the DGP yuzhniya "Gara"; bul. "Ivan Vazov", on the street. "Tsar Petar" to the street. "Gladstone"; str. "Gladstone", blvd. "Ivan Vazov", to the street. "Ferdinand "; str." Ferdinand "from the street." Gladstone "to the street." Hristo Botev ".
Road Tax in Bulgaria Burgas - vignette

Road tax, known by various names around the world, is a tax which has to be paid on a motor vehicle before using it on a public road. Vignette is a form of road pricing imposed on vehicles, usually in addition to the compulsory road tax, instead of the usual road toll method based on distance traveled.Vignettes are used in Bulgaria . To travel to Bulgaria, you need to buy vinetku tax-permit traffic on the roads of the country. The use of national roads outside towns in Bulgaria is permitted only after the toll payment. For all drivers in Bulgaria purchase vignettes compulsory.
No you do not need to worry about it. The special vignette sticker is included in the price of renting a car. Vignette is stuck on the windshield, allowing the drive on all roads in Bulgaria, Our car rental in Burgas offers short-term and long-term car lease at any time, including weekends and holidays. Rent a car in Burgas on your next trip and see the country. Car rental Burgas is a must as there's plenty to see in and around the city.
Headlights
Your headlights should always be on even during daytime in Bulgaria. Use Your dipped headlights 24 Hours a Day in Bulgaria.
Speed Limits
Speed limits in Bulgaria are:
Standard speed limits in Bulgaria km/h (unless otherwise stated by traffic signs:
Town and city: 50 km/h
Open Roads: 90 km/h
Motorways: 120 km/h
Culture , Main sights
There are a lot of museums in the town. The museums which are quite worth of visiting are the Burgas Regional Historical Museum,Ethnographic Museum ,Archeological Museum and Museum of Nature and Science .
Festivals and events in Burgas
In Bourgas conducted several festivals.The International Audition for performances of German and Austrian music is hold in April. In May there is a Burgas Sailing Week. In July there is a Three Week Festival of Opera and Classical Music and Burgas Marathon swimming . In August -Kiteboarding Regatta ,Spirit of Burgas and International Folk FestivalThe Spirit of Burgas is a summer music festival on the Black Sea coast in Burgas. Among its partners and sponsors are Mtv Europe. Spirit of Burgas is organized on Burgas' central beach. The first edition of the festival took place on 15–17 August 2008 and since then it has significantly grown in popularity, becoming one of the most prominent summer music festivals in Europe.
On 6, 7, 8 August 2021 Spice music festival in Burgas seaport port 1 Knyaz Alexander Batenberg Str. Spice music festival 2021 will be 3 days.
The organizers managed to include other beloved artists in the program. Maxi Jazz from (FAITHLESS), STEREO MC's, BOMFUNK MC'S, COOLIO, C-BLOCK, NANA, MASTERBOY & BEATRIX DELGADO and VENGABOYS are among the first announced names.
The Spice Music Festival area this August will be expanded to a maximum capacity of 15,000 people.
You can buy a three-day ticket for SPICE Music Festival 2021 online.
Here are some of the participants Maxi priest BG The Prince of Rap In Grid Turbo B from Snap STEREO MC's, Leeroy Thornhill (ex-Prodigy), ДОНИ и МОМЧИЛ, ALICE DJ, C-BLOCK, DANZEL, E-TYPE, IN-GRID, JENNY от ACE OF BASE, MASTERBOY & Beatrix Delgado, NANA, REAL McCOY, TURBO B from SNAP! and VENGABOYS are the names that will shake the stage of the festival in 2021.
Shopping in Burgas
If you love to shop then you're going to love Burgas Plazza and Mall Galeria. Here you'll find just about anything you want under one roof. You'll find a huge selection of shops including many of the big names like Bershka, Esprit, Sara pen, Douglas, Adidas, Nike, McDonald's, Subway just a few of the names.
In the city centre much of the shopping line is pedestriansed making it a pleasant experience to wonder from shop to shop without worrying about traffic. The main street is called Aleksandrovska .
A good place for food shopping is the city market. The city market offers variety of fresh vegetables, fruit and meat. It is located at the end of Ferdinandova Street. Plaza is the first shopping center in Burgas.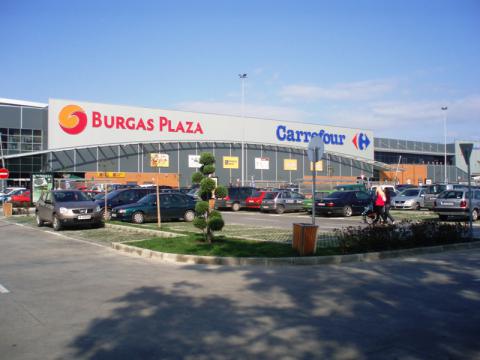 The shopping centre
Mall Plaza Burgas
is the first modern shopping mall in the city. The Burgas Plaza Mall is located in the Izgrev Residential Complex. The Mall offers free parking and a Wi-Fi zone. The Mall Plaza Burgas hosts shops of local and international leading brands and fashion giants such us Adelly, Adidas, Andrews, Ladies, Art 93, Benetton, BNP Paribas, Bobo Zander, Bote, Calliope, Carnival Kids, Carrefour, Deichmann, Dm, Douglas, Esprit, Estil, Fuji Germanos, Gianni, Golden Rose, Handy, Hippoland, Intersport, Joy Optics ,Kenvelo, KFC, LC Waikiki, Make-up Studio, Marks & Spencer, Massimo Zardi, McDonald's, Mothercare, New Silhouette, New Yorker, Nike, Okaidi, ONYX, Opticlasa, Orange Centre, Paolo Botticelli, Pepina M Baldinini, Pierre Cardin, Piraeus Bank, Pompea, Sara Pen, Subway, Swatch, Terranova.

The second large mall of Burgas is
Mall Galleria Burgas
that is built in the North industrial zone of city, in Slaveikov Residential Complex. The new Mall suggests a big rate of entertainments and a good range of restaurants and eateries.
Mall Galleria Burgas
was openned 14.05.2012.
Mall Galleria Burgas
is
located
on 6 Yanko Komitov Street, the mall offers its visitors a combination of shopping and entertainment, guaranteeing pleasant experiences and convenience at affordable prices. Mall Galleria Burgas is located in Slaveykov complex, 5 minutes drive by car from the center of Bourgas.
The mall has 1200 parking spaces.
Mall Gallery in Burgas is a modern shopping center. The complex has more than 50 stores for clothing, accessories and shoes for both large and small. There is a wide variety of dining options. The entertainment offered by the mall is a fitness center, a children's center, a 3D cinema and a Playground. The shopping center often organizes events especially for small visitors.
Located in the Burgas Galleria Mall, the Crocs seasonal kiosk offers visitors of the shopping center the widest variety of Croxes you will find in Bulgaria. Located on the ground floor. Open from 15th May to 15th September.
Mall Galleria Bourgas working hours
from Monday to Sunday between 10:00 and 22:00 hours. The complex is on 3 levels with its shops and restaurants.
Mall Galleria Burgas introduces new and upgrading existing fashion brands available in Burgas; International fashion giants like H&M and Inditex' ZARA and Bershka, present for the first time in the region. Retailers in Galleria Burgas: Cinema City, Carrefour hypermarket , Carrefour already operates successfully in Burgas Plaza, H&M, Zara, Bershka, Terranova, Humanic, Deichmann, Technomarket, Galleria Scandal, Miss Sixty, Triumph, Kenvelo, Playlife, ESPRIT, Fan Point, Beauty Zone, Lee Cooper, Rollmann, Andrews Fashion.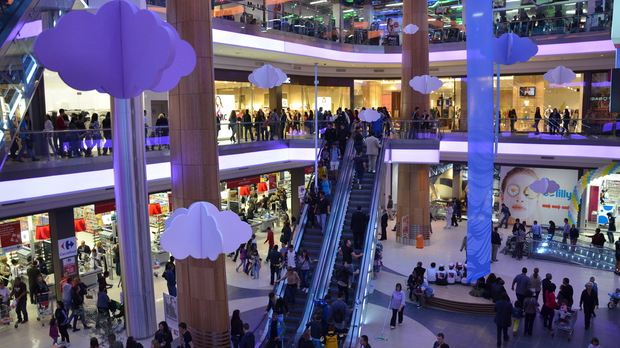 Summer resorts on the Black sea coast
There are many summer resorts and small towns on the north and south of Burgas. Burgas is preferred by tourist for starting point for their summer holiday, because it is closed to the most attractive Black sea summer resorts and towns.Car rental Burgas is the best means of transport for tourists who want to explore these places in Bulgaria -Obzor, Nessebar, Sunny Beach, Ravda, Elenite , Byala , St. Vlas , Banq , Sinemorets , Primorsko , Pomorie , Sozopol , Ahtopol , Tsarevo , Elenite , Losenets. Varna city is 120 km away of the airport of Burgas so it is also a fast option to travel to the city.
One of the most attractive town is Nessebar ( Nesebur ). Nessebar city is very famous for its exciting and historic Old Town. Nessebar is an ancient town and one of the major seaside resorts on the Black Sea coast in Bulgaria . It is north of Burgas .Often referred to as the "Pearl of the Black Sea" . Nesebar is a rich city-museum defined by more than three millennia of ever-changing history . It is a one of the most prominent tourist destinations and seaports on the Black Sea, in what has become a popular area with several large resorts—the largest Sunny Beach is situated immediately to the north of Nesebar .
You can visit Sozopol which is another ancient seaside town . The roads are well maintained and so you can be sure to have a wonderful driving experience. The busiest times of the year are the summer months, ranging from May to October as tourists from around the world come to enjoy sandy beaches, the weather, history and culture, fusion cuisine and atmosphere of the colourful town.
Come to Burgas and tour the region in a car hired from Bravo car rental. In order to have an experience that you will not be forgetting any time soon, you need to drive around in a rental car. Bravo rent a car Bulgaria carries a full range of vehicles from cheap, automatic car gearbox to vans, 7 seater cars in Burgas to suit your budget. Use the Search form to get your instant car rental quote. We provide you ren-a-car service to be able explore destinations at your own pace .