The Sand Sculpture Festival Burgas officially opened its doors in early July for visitors with its new exhibit on "Favorite Children's Heroes".
The festival is in its usual place in park Lake near the Horse Base - Bourgas. Burgas Sand sculptures festival is at the Sea Garden. You will have a great family day there.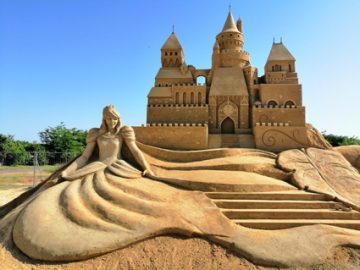 This year the sand sculptures were sculpted only by Bulgarian authors. The Sand Sculpture Festival will be open weekends until October, from 8am to 10pm. Admission is free on the opening day. On an area of five acres, from special, rain-resistant 5 600 tonnes of sand, every year appeared all kinds of characters, bizarre creatures, castles, towers, mermaids, pirates, princesses, animals and other fabulous creatures. This summer Burgas will host the twelfth consecutive edition of this landmark, but also for the Bulgarian Tourism Festival. One such small world opens its doors every summer - for the whole 10 years in the Sea Garden of Bourgas. It is not ordinary or fictional - it is quite real, nothing that is made of all the sand. The Municipality of Burgas is proud to announce that only Bulgarian authors will participate in the new edition of the Sand Sculpture Festival. They are 19 in total and after a few days they start working in the field. Five of the sculptors are Burgas citizens - Atanas Stoyanov, Dobrin Vatev, Ognyan Petkov, Igor Hristov and Vladimir Dungov.
In the first years the participants were only from abroad. Gradually Bulgarian artists began to learn from the experienced masters and today we can say that there is already a native school in this art, created in Burgas. Of course, there will be foreign guests at the next editions of the festival, but this year everything is in the talented hands of Bulgarian sculptors. The theme is "Favorite children's characters". The exposition features sand-transformed sculptures, Aladdin with the magic lamp, Pinocchio, Lilo and Stitch, classic Walt Disney characters.
The Sand Sculpture Festival is in July, August, September and October.
The place is customary - next to Horse Base and Hotel Park in Lake Park.
Prices per visit:
- 1.5 BGN for pensioners and students
- 2.5 BGN group ticket (group of 10 people)
- 3.5 BGN normal ticket
- free entrance for children up to 7 years old and disabled.
Work time:
- July and August - no day off from 08:00 to 22:00
- September and October (good weather) - no day off from 09:00 to 21:00